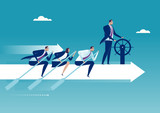 What do successful Relationship Managers know about team selling? For starters, it's work!
The Relationship Manager (RM) is the quarterback but not the only person involved in developing a relationship with a customer or prospect. The RM can't be the sole strategist—a team almost always does a better job identifying opportunities.
The first task for the RM is to assemble the right team. When in doubt about whether to include someone, it's probably best to consult with your Sales Manager or directly with the individual.
The next step is planning. To develop a workable plan, relationship teams should do the following:
1. As a team, review the industry information and trends, the company's website and available financial data on the client or prospect.
2. Anticipate the current and future business objectives, adjustments in business operations, and possible adjustments in working capital processes (looking for possible tangible and intangible needs).
3. Discuss as a group your experience with the key decision makers and influencers (traits, background, familiarity with your institution, and your products).
4. Determine the objectives for the next two or three calls.
5. Select the calling "team" for the next call. (Note: Don't take more people than you need to accomplish your objectives.)
6. Map out the roles of each of your team members on the call.
7. Agree on who is responsible for preparing materials for the call.
Bottom line: Relationship teams and team selling can work but don't fool yourself: They're extra work, particularly for the Relationship Manager.