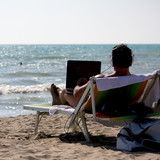 Are you heading to the beach for your vacation? Trying to get your golf handicap below 10? Finishing your family's genealogy?
Whatever you plan to do this summer outside of work, here are some ways to keep your sales momentum:
Do something nice for your best customers. I'm not talking about sending them tickets to a baseball game or a concert, although that's not a bad thing to do. Let them know you're thinking about their business. If you have something specific in mind—maybe something that would improve the way they manage their cash—visit them. If you don't, visit them anyway.
Bone up on the competition. Mystery shopping is not just for branches. Use your network of customers and prospects and COIs to find out what your top competitors are doing with their business customers. Share your insights with your colleagues.
Take a product partner to lunch. Get to know your Cash Management rep better. See if he knows anybody on your prospect list. Pick your Wealth Management contact's brain about what she's seeing in the market.
Do some industry research. Not the VerticalIQ or RMA kind—everybody does that. Visit some trade association websites to see whether you can learn some things that will make you more knowledgeable about the issues facing your customers and prospects. You might discover a trade association meeting that would be worth attending.
Meet some friendly accountants. Review all the financial statements you have received this year and see whether you know all the CPAs who prepared them. If you don't, ask your customers to set up a lunch so you can meet them.
Write an article for a local business publication on a topic that would be of interest to your prospects. Milk it for all it's worth. Before mailing it to the editor, send it to your customers and prospects for comments. After it's published, get a PDF of the file and share it with everybody you know who might be interested.
Review your relationship plans with your Sales Manager. What, no relationship plans? Send me an email at nmiller@mzbierlyconsulting.com and I'll get you a template that you can use.
Keep improving your skills. Be honest with yourself about what you need to work on. If you're a credit wiz who struggles with selling, sign up for a webinar or buy a book on prospecting. If your product knowledge is sub-par, get some tutoring from one of your colleagues. Lousy at negotiating? Take a course.
Show your prospect list to your satisfied customers. You might be surprised how inclined they are to help you with your business development efforts. According to a Greenwich survey a few years back, over 65% of business customers would be willing to refer their bankers to others. Most are never asked to do that. Be a banker who asks.
Summer is a time to recharge your batteries. But it's also a time to refocus your energies on how to retain your best customers and acquire new ones.
Looking for a suggestion on how to jumpstart your prospecting efforts this summer? Check out our archive of recorded webinars on prospecting at http://mzbierlyconsulting.webex.com or call Susan Lersch at 610-296-4771.