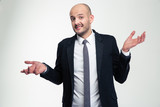 Ready for a quick assessment of your small business sales effort? Here's a chance to reflect on where you are.
Are your branches actively involved in the small business effort? Good branch managers are knowledgeable about what's happening in the market, have a wealth of contacts in the local community, and know the value of small business relationships.
Are your branch managers comfortable talking about your core small business products? If they're not at least "conversationally competent" in your deposit, cash management, business credit and investment products, they probably won't bring them up in conversation.
How successful are you selling to both the small business owner and the business? One important measure is the percentage of your business customers who have their personal accounts with you. (And if you don't know where you stand, you need to find out; many banks are surprised at how low their wallet share is.)
Can your branch salespeople explain why a business prospect should switch to your bank? If all they talk about is "service" you might have a problem.
Do your branch managers make outside sales calls? Not the "I'd like to stop by and drop off donuts" marketing calls that often masquerade as sales calls. We're talking about substantive conversations that focus on ways to help the business owners grow their business. These typically are scheduled calls with a defined business agenda—a plan in other words.
If the answer to question 5 is no, why not? Is it a sales training issue? Or does it have more to do with infrastructure—not the right people, not enough people, etc.?
If the answer is yes, how would you rate the quantity and quality of the calls? In our experience if a manager is making fewer than 4 or 5 calls a week, the chances are that he'll never get very good at outside calling. There are many ways to gauge call quality but the only way to know for sure is by going on a joint call.
Are any silos standing in the way of success? How well do your branch managers team with their product partners from Cash Management, Commercial Lending, Business Banking, Trust and Investments, etc.?
How effective are your sales managers as coaches? Be honest now. Are they administering a process or leading one? Putting out administrative fires or training their teams?
Are you satisfied with your results? If you're not, what do you plan to do about it?
If you'd like to discuss ways other banks have addressed these and other sales and sales leadership issues, call Ned Miller at 484-433-2378.
Here are some blog posts on sales leadership that you might have missed:

Don't Lose Your High-Performers
Will This Experienced Banker Be on a Performance Plan Next Year?
Consultant Bares All: 20 Secrets for Bank Sales Leaders
If you're looking for a speaker for a sales conference in 2017, call Susan Lersch at 610-296-4773 or email her at Susan.lersch@mzbierlyconsulting.com. Buck Bierly and Ned Miller can also work with you to provide day or half-day workshops for your teams on a variety of topics.