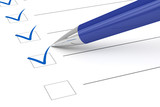 If you're trying to develop your team's prospecting skills, you may need to assess your own activities. Here's a quick list of questions to get you started:
1. Have you met recently to review the prospect lists of all your team members? If you haven't done it within the last 3 months, schedule a time to do so.
2. Have you clarified your expectations regarding the amount of prospecting that's appropriate for each banker on your team? If Amanda has recently inherited a big portfolio, the priority in the near term is probably to focus on that. James may be in a totally different situation; with a small book of business, his calling should center on prospects and COIs.
3. Are you using your weekly sales meetings to highlight the importance of new client acquisition? There are lots of messages competing for the attention of your bankers; if prospecting is near the top of your list of priorities, make sure you weave it into your meetings every chance you get.
4. Are you strategizing with your team about how they're doing with the prospects you've identified? Strategy starts with how a banker is going to get in the door but includes what value proposition makes the most sense, who to involve, what competitive advantages you have, etc. The best coaches get involved early in the prospecting process.
5. How much pre-call, post-call coaching are you doing? If you're not building this into your one on one coaching sessions, you're missing a chance to have a big impact on the quality of the prospect calls being made.
6. Are you making joint calls with all of your team members? Some sales managers have a tendency to take over joint calls (surprise!). In some situations that may be appropriate, but if it always happens, you need to reassess your approach. Joint calls are a great way to observe the skills of your team and provide immediate feedback and coaching.
7. Are there things that could improve your team's chances of success in prospecting? Access to better industry data? More competitive intelligence? Sales refreshers on key elements of the prospecting process? If you're not sure what's out there, arrange to sit down and chat with one of your recent hires.
8. Are you celebrating progress? Remember that in prospecting, small advances can be considered victories, so don't just highlight closed business. Recognize team members who are doing the right things to generate and develop leads as well.
If you found this post valuable, share it with others in your network via email or social media.
Bank Sales Managers: If you'd like to arrange a 30 minute conversation to discuss how we can help you improve your team's prospecting results, call Susan Lersch at 610-296-4773 or email her at susan.lersch@mzbierlyconsulting.com