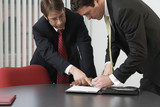 Guest Blog by John Montgomery, Chief Credit Officer, First Banks, Inc. Clayton, MO
My belief is that bankers differentiate themselves when they understand and truly believe that they are advisors on par with a client's accountant and attorney. This is an important mindset shift. Most Relationship Managers say that they are equals but don't always believe it. But if they can see themselves as advisors to their clients they will separate themselves from the pack.
Becoming an advisor does not just happen. Bankers must consistently work to improve their professional skills so they can add value. An accountant has his CPA designation and an attorney has passed the bar. These items give them credibility. Bankers must earn that credibility through knowledge, skill and expertise. They need to have a deep understanding of banking, accounting and the law, but also possess a keen business sense.
So here's my advice to a young banker:
· Be relentless in improving your knowledge on the technical aspects of the business (banking products, accounting, legal issues, etc.) and developing general business acumen.
· Stay up to date on the economy and how economic changes will impact your clients. Be a resource on the economy for your clients.
· As most "generalists" work for community banks and thus are exposed to real estate financing become an expert on real estate. Learn everything you can– from how to analyze an IRR, the development process, the risks associated with various classes of CRE, how to position CRE for long term gains (factor reserves into your cash flows). In essence if you can become a CRE expert your clients will value that tremendously.
What advice would you give to a young banker?Add your comments in the space below.
If you found this blog post valuable, here are a few more blog posts that you might be interested in:
7 Ways to build your Business Acumen
What is the best advice you have ever received on sales?
Following up with Prospects Q&A (Video)