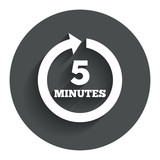 What can you accomplish in five minutes? Well, if you find yourself with five minutes at some point in the day, here are 5 things you can do to improve your personal chances of success in business development.
Review your current pipeline and think about whether there is anybody who might be able to assist you with any opportunities that you are trying to close. If there is, contact that individual fast.
Invite your Sales Manager to make some joint calls with you. Let your boss know what areas you'd like some feedback on.
Call one of your line of business partners and schedule a time to talk about ways you can help each other meet your sales goals.
Think about ways you can involve your Administrative Assistant in your sales efforts. If you share an AA, set up a time to talk with your colleagues about how as a unit you can take better advantage of your AA's talents.
Review where you stand with your top 5 customers. Make sure you're not taking any of them for granted.
Check out these other blog posts:
11 Unbelievably Concise Sales Insights
Knowing What Makes Entrepreneurs Tick Will Boost Your Sales Results
Would your prospects pay for your next call?
There are several other resources available for free on our website, including: